"What I like best about being a Certified Legal Nurse Consultant is my days are flexible depending on what I need to get done. Some days I choose not to log any hours at all and relax by the pool, while other days I start at 9:00am."
A Day in the Life of Certified Legal Nurse Consultant Dorene Goldstein – The Benefits of a Highly Flexible Schedule*
by Dorene Goldstein, RNC, BSN, CLNC
*Results are atypical and may vary from person to person.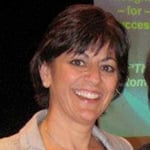 What I like best about being a Certified Legal Nurse Consultant is the flexible schedule. I do not have a typical day or week for that matter. My days are flexible depending on what I need to get done. Some days I choose not to log any hours at all and relax by the pool, while other days I start at 9:00am sitting in my home office working on cases. I usually sit and work for about two hours at a time and then I take a break.
During my break I either walk away completely from my office or I switch tasks. I love being able to have control over my schedule and to manage my time flexibly. Sometimes I work on many different cases at a time. If I get bored with research, I can work on a chronology or a case screening. This work is perfect for me as I like to keep it interesting. Since I never miss a meal, lunchtime comes quickly and I usually eat at about 12:30pm. I allow an hour for lunch and take the dog for a walk no matter what the weather is outside. This time helps clear my head – I find that when I go back to work after this break, I am extremely productive. Such is the benefit of having a very flexible schedule as a legal nurse consultant!
The afternoon is when I am usually at my best. I finish many tasks and check them off the list. This is a satisfying experience. While I would like to say that my days end at 4:00pm, this is usually not the case. I find that many nights after dinner, I return to my home office to plan out my week. Relax, I don't work every day of the week like this. Some days I only work in the afternoon or I don't put in any hours at all! My days and weeks are truly flexible and I can thank Vickie for that.
Working from home can certainly be a challenge for someone like me who gets distracted easily. Walking down the stairs to my office, I pass by the piles of laundry. When I put the laundry in the dryer, I have to take the other clothes out. When I put them away, I realize that the bed needs to be made, etc. The way I avoid this issue is to not do laundry or any other chores during my work day. If I work outside by the pool, this is never a problem because I can't see the housework that needs to be done.
Click here for success story ideas.
Back to Legal Nurse Consultant Stories