If you're ready to get seriously started on your legal nurse consulting business but want to know what steps to take first, we invite you to join us for the 12-Part Video Webinar Series: The First 12 Action Steps for Starting Your CLNC® Business.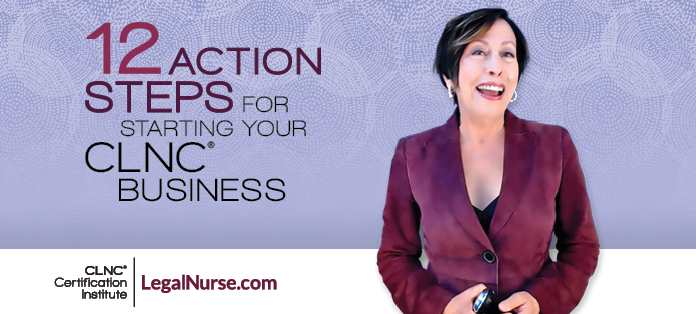 2023 will be here before we know and we want all Certified Legal Nurse Consultants to start the new year with more legal nurse consultant jobs. We invite you to participate in this 12-Part Video Webinar Series whether you're a new Certified Legal Nurse Consultant ready to obtain your first case, or a veteran CLNC® consultant ready to take your business to the next level in 2023.
Watch the Videos to learn the first 12 steps to obtaining more legal nurse consultant jobs.
We're so excited you're joining us for this 12-Part Series and look forward to hearing your CLNC Success Story in 2023.
Success Is Yours,
P.S. Comment and share the commitment you made to you to obtain your next legal nurse consultant job.