One of my favorite quotes by Paul Theroux is "I cannot make my days longer so I strive to make them better." When I shared this with a friend she replied, in a deprecatory tone, "Your friend Paul obviously wrote this before the COVID-19 pandemic."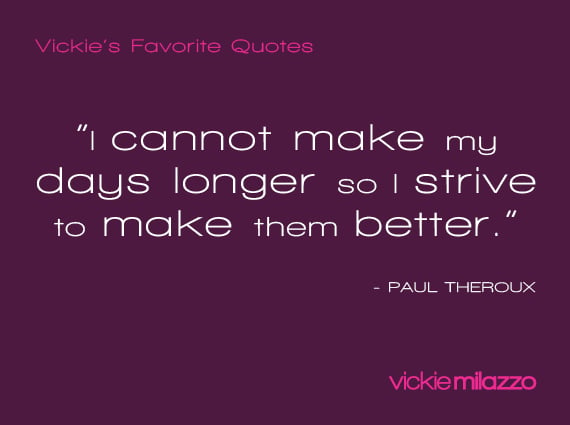 I'll grant my friend her point, but Theroux's quote is as relevant today as it was pre-COVID-19. Whether your days feel longer or not, you can always strive to make them better.
A better cup of coffee can transform your day, a better conversation with your spouse can transform your marriage and a better development of your unique selling position (USP) can transform your CLNC® business.
Time doesn't choose favorites. We all get the same 24-hours in a day, although Stedman Graham did once joke that I seem to squeeze an extra hour or two into every day. I wish that were true, but it's not. What I do know for sure is I can only commit to continue to make each day better instead of longer.
That's what I aim to do. I hope you're joining me. 😊
Stay tough and be happy my friends,



Vickie L. Milazzo, RN, MSN, JD
P.S. Comment and share how you make your days better.