You've heard the saying "You never get a second chance to make a first impression." But now you do! With Vickie Milazzo Institute's exclusive Attorney Interview Tool and Virtual Workshop you get to practice that first impression over and over again until you get it right. We take the fear out of interviewing with attorneys. The Institute's Attorney Interview Tool will allow you to role play interviews and assess your performance to make the adjustments necessary to perfect your best presentation. Available 24/7 you can practice when you want and as many times as you want.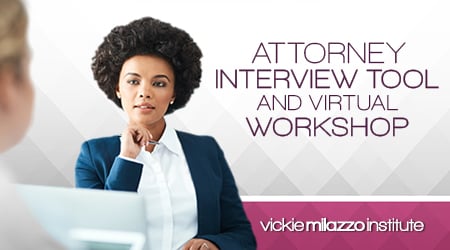 Plus, as long as you're CLNC® certified, you are invited to the Institute's LIVE Zoom Interview Workshops with Vickie. Attend as many as you want. This is your chance to go face-to-face in a practice interview with Vickie. These workshops will get you ready for your first, second and every other interview you'll have with prospective attorney-clients.
As an RN you know that practice and demonstration are the keys to mastering anything. After participation with the Attorney Interview Tool and Virtual Workshops you'll be ready for any attorney that crosses your path.
This course has been added as a new resource for VIP Pro Certified Legal Nurse Consultants. Go to LegalNurse.com, click Menu and then click Student Login to access Attorney Interview Tool and Virtual Workshop.
If you need help logging in to the NACLNC® Association, please call 713.942.2200.
Success Is Yours,



Vickie L. Milazzo, RN, MSN, JD
P.S. Comment and share your tips for mastering attorney interviews.