We humans like to think we embrace change, but if you're alert to what's been happening in the world recently, you might agree that the COVID-19 pandemic is proof that most of us expend more energy resisting change than accomplishing something productive through it.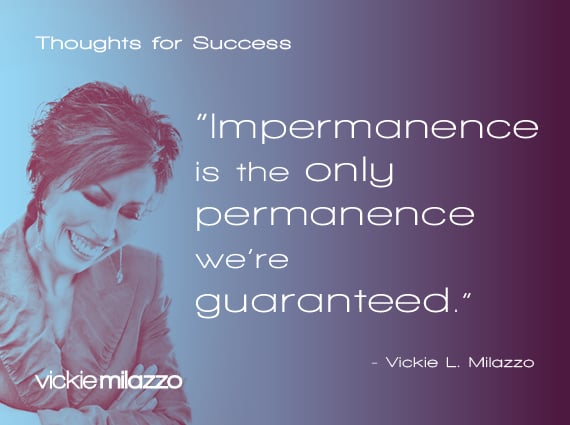 It's only human to want the things we love and covet to be enduring and to withstand the wear and tear of the curve balls life throws our way. Personally, I thought I had this life thing down, but just when life was seeming easier than ever, along came COVID-19 to wake me up to the fact that impermanence is the only permanence we're guaranteed.
Permanence is just a short ride through a bigger life and that short ride will come to an end. When it does, impermanence reminds us on a grand scale (like COVID-19 did) that life is inconsistency, instability, unpredictability, volatility, uncertainty and much more. We cannot contain or control it – no matter how hard we try (and believe me, I've tried).
We do glimpse, and often feel for whole periods of time, stability, solidity, continuity and reliability. But these glimpses into a state of optimal potential continuity only make us crave it more.
Knowing and accepting that impermanence is the only permanence we're guaranteed positions us to more powerfully negotiate impermanence and it's associated aftermath. How we stand up to impermanence won't always be pretty, and we won't always be grateful for the irrevocable or temporary changes it imposes, but we can strive to come out stronger.
I'm going to stop wishing we could turn the clock on the COVID-19 pandemic and stand up to all the impermanence it's delivered to my door. I hope you'll join me.
Success Is Yours,



Vickie L. Milazzo, RN, MSN, JD
P.S. Comment and share which you prefer – permanence or impermanence and why.