If you're a busy Certified Legal Nurse Consultant you've probably worked late into the night on more than one occasion. In fact, you probably do it as a matter of course. It's well known that the blue light from electronic devices such as laptops, monitors and phones can suppress melatonin production, affect your sleep and even contribute to health issues. This Tech Tip gives you an excuse to stay up late and improve your health at the same time. But it's best to wait until after dark before implementing the steps below. Plus you'll be able to see the differences as you work through it.
Windows® 10 is unique in that it enables users to limit the amount of blue light they're absorbing by activating the Night light function. Simply go to Settings, select System, then Display and finally under Brightness and color, toggle on the Night light switch. Now go to Night light settings for the next two steps.
The first step is to schedule your Night light. If you don't, Windows will apply a default schedule. My recommendation is to toggle on the Schedule night light and then select the radio button next to Sunset to sunrise. This will use your computer's time and date function and will guesstimate your location and seasonally adjust the on/off times. Or you can set the hours manually – it's your choice.
Your final step is to adjust the color profile for your new night light. This is why it's best to do this after dark in the working conditions where you'll be using the night light. Right above the Schedule option you'll see a slider titled Color temperature at night. Grab that slider and move it around until you reach a color profile you like. If you make it too warm you'll be back where you started with the blue light so keep it cool (Don't worry you'll get used to it.). Whatever color profile or night light schedule you choose, save your choices by closing the window by hitting the [X] button (top right corner) when you're done.
Now you can safely stay up late and get some legal nurse consulting work done too.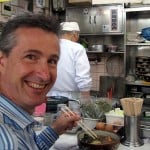 Keep on techin',
Tom
P.S. Comment and share your experience with the Windows night light.