My love story with nurses started decades ago and I've been inspiring nurses with my mantra "We Are Nurses and We Can Do Anything!®" ever since. It's true, registered nurses can do anything – after all we save lives by making split second decisions that often mean the difference between life and death.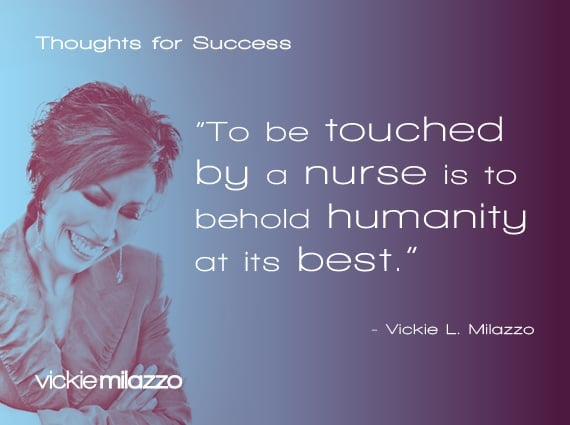 That single fact is more than enough reason to celebrate #nursesweek, but today, I'm not stopping here. There's also another reason to honor registered nurses and that reason is one of my favorite Thoughts for Success, "To be touched by a nurse is to experience humanity at its best."
Nurses treat all patients without regard to skin color, economic status or political viewpoints. We see only a fellow human in need. All patients are created equal in the eyes of a nurse. Yes – even those who believe in stupid notions like #nursesplayingcards will be treated with humanity by a nurse.
During these tumultuous times, with polarizing divides on every subject being stronger and more prevalent than ever, I propose we celebrate not just what nurses do, but who we are. Just imagine – if people approached each other with the spirit and openness of a nurse, what a more successful planet this would be.
Happy Nurses Week. I love nurses!
Success Is Yours,
P.S. Comment here and wish your nursing colleagues Happy Nurses Week.