A couple of Tech Tips back I explained how Certified Legal Nurse Consultants can add shortcuts to their iPhone. Now, that your phone is full of shortcuts and apps, I'm sure you've found yourself getting frustrated by paging through screen after screen on your smartphone to locate the GateGuru® app and find the best restaurant in the Shreveport airport. If that's happened to you, here are a couple of ways to eliminate that stress.
Start by organizing your smartphone, the first and easiest way is by screen – you simply move group related shortcuts and apps on the same screen. As an example, my work-related apps are on my first screen. Social media is on my second screen. Travel-related apps are on my third screen and anything related to recreation are on the fourth. The fifth screen holds things like weather, calculator, etc. – nothing important, but apps I still use. I have an iPad Pro I travel with and use the same system for clarity.
To move an app from screen to screen does require a bit of coordination though. First you hold your finger down on an app until they all start to vibrate – then, once they're vibrating more than an eight-year-old on Christmas Eve, you hold the app and slide it from screen to screen until you get it located where you want it. Continue this until you get all your apps and shortcuts are properly organized.
The second way to organize your apps and shortcuts is to not use screens, but to use folders. That way you can have one screen with multiple, custom-labeled folders. If you've ever "fat-fingered" one app on top of another, iOS will create a folder containing both apps. You then have to touch and open the folder and, using the vibrating method described above, slide one of the apps out onto the main screen. If you meant to create the folder simply keep dragging the appropriate apps into the folder. When you're satisfied with the contents, next touch the folder and then hold your finger on the folder name until the Select option comes up. Now, by touching the name you can rename the folder to something appropriate to its contacts (Travel, Work, Attorneys, etc.)
That's my Tech Tip for today – organizing your smartphone to make your legal nurse consulting career easier.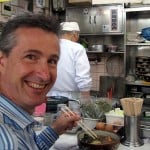 Keep on Techin',
Tom
P.S. Comment and share your iPhone tips here.