With an iPhone®, Apple® watch, iPad® and a spiffy touch-screen laptop computer, you could say I'm extremely connected and there's a high probability that you are too. All of these devices are tools helping me to manage my legal nurse consulting business. Whether I'm in my office, waiting at the departure gate or standing in line at Walmart®, I'm on the job.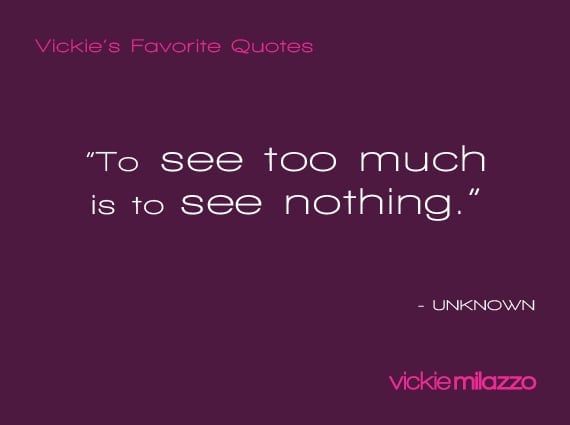 But I do take time out. If I'm traveling, I purposely use airplane time for myself and don't connect to WiFi to keep free of distractions. That space is a respite from the day-to-day, minute-to-minute job of being in business. But once my flight lands, I'm back to being Vickie L. Milazzo and am usually caught up with email before I pick up my luggage.
Since I'm connected so much, I've learned that sometimes too many devices are just that – too many. I just returned from Africa, the one continent that still forces you off the grid (whether you like it or not) and back into your own space. From previous trips I've learned that I don't want to see the sand dunes of Namibia, rock-hewn churches in Lalibela or mountain gorillas in Rwanda through the lens of a camera or peering through my iPhone, which then unconsciously prompts me to check my email, scope out Facebook or bemoan my lack of a signal keeping me from doing either.
To see a place through a lens is to risk seeing nothing because we become preoccupied with capturing everything. Soon we're not in the moment, we're on a device. I want to see through my eyes, not through an intermediary. I want to capture memories with my senses, memories I'll carry forever. Not because I put those memories on Facebook or Instagram, but because I was there – fully present and alive in every sense.
Did I take a few photos? Yes (my selfie with a silverback is priceless), but I arrived home with so much more than a mass of digital images that I'll never sort through. I arrived with a new sense of renewal, curiosity, excitement and awe of all that our planet Earth offers.
Is there anything you've stopped seeing because you're seeing too much? If yes, pause, then be in the moment and I guarantee you'll see so much more.
Success Is Yours,
P.S. Comment and share your strategies for seeing more.