Growing up in New Orleans taught me that you can have a party anywhere and for just about any reason. Tom learned this firsthand at a funeral in New Orleans where even death is worthy of celebration.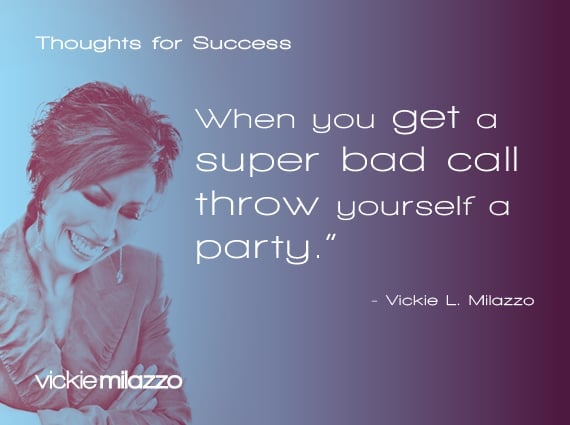 Coming from a world that practiced tearful, whispering wakes, he was shocked at his first New Orleans funeral. He sure wasn't expecting a boisterous party with lots of donuts and coffee cups of 90-proof "tea." He was in disbelief that people were laughing and making noise while there was a dead body in the other room. To his credit, he flexed his agility and realized we weren't celebrating that a person had died, but were instead rejoicing that the person had lived. Then Tom got into the celebration, the "tea" and the party.
The whole world knows that my hometown team, the New Orleans Saints, missed out on the Super Bowl due to some pretty bad refereeing – or should I say a total, complete and inexcusable lack of competence on the part of the near-sighted referee crew (Sorry – does that sound biased?). The fans moped around, complained, filed lawsuits and petitions, sent DM tweets to Roger Goodell (@NFLCommish if you still want to weigh in) and collectively held their breath until the city turned from black and gold to blue. When none of those emotions and efforts made a difference, they didn't turn to destruction, looting and rioting as some football fans have been known to do (Philadelphia Eagles fans are not specifically called out here). They decided to do the one thing that people from New Orleans are known for – throw a party.
In New Orleans and most of Louisiana, the 2019 Super Bowl was completely ignored in favor of a "No-Call Jazz Funeral and Second Line Parade." There were probably more people in Jackson Square than on Mardi Gras day. I'm sorry I couldn't be there to yell "Throw me something mister" and have a fake penalty flag thrown my way in response. Fans pointedly turned their TVs to any channel other than the game channel, watched the parade on TV and threw parties all over the city. The "Boycott Bowl" was one of the best collective parties New Orleans has ever thrown (at least until the next one).
It's been many years since I've left New Orleans, but that party attitude is one of the attributes I still retain. No matter how bad things are going, my New Orleans upbringing still kicks in and reminds me that there's so much to celebrate. In sports and life the pain of unfair, bad and missed calls are inevitable, but the suffering, complaining, moaning and groaning are optional and one thing New Orleans people don't do is suffer – they party.
By all counts the 2019 Super Bowl was a failure with not only the lowest scoring game ever, it also received the lowest TV ratings in years (don't get me started on Adam Levine's half-time show). But in New Orleans and throughout Louisiana, the boycotted 2019 Super Bowl was one of the most successful parties of the decade drawing people from all over and into a party unlike anything the city had seen since 2010 when the Saints defeated the Indianapolis Colts in Super Bowl XLIV.
When things don't go your way or you get a super bad call in life or in your legal nurse consulting business, throw yourself a party New Orleans style. It sure beats the alternatives.
Success Is Yours,
P.S. Comment here and share how you create your own party when you get a super bad call.
P.P.S. In support of my New Orleans friends and relatives I did boycott the Super Bowl (as long as watching Adam Levine at halftime doesn't count 😉).