In my last Tech Tip I discussed an easy way for legal nurses to organize their bookmarks in Chrome. But while bookmarks are really useful, they often become outdated pretty quickly. Websites are constantly revised and sometimes even drop off the face of the Internet. When that happens your carefully curated collection of bookmarks is suddenly useless or incomplete.
If you're following my last Tech Tip and organizing your bookmarks by clicking on the hamburger button and mousing down to Bookmarks and then to Bookmark manager, you'll see all your bookmarks listed. Now, before dragging any bookmark into a new bookmark folder, simply right click on that bookmark and then select Open in new tab. That webpage will open in a new tab and you can verify that it's going to the right place before you file it in a bookmark folder. If the bookmarked address is invalid you can simply delete it.
Take an hour or so every month, or every other month, to organize and check your bookmarks. That way they'll be there when you need them for your legal nurse consultant jobs and research.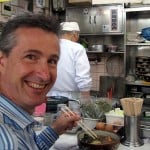 Keep on Techin',
Tom
P.S. Comment and share more of your favorite bookmarked websites and resources so that we can all file them in our new bookmark folders.