Bookmarking web pages is essential for those pages you need to rapidly access for your legal nurse consultant business. And, if you're at all like me you've got lots of bookmarks in your Chrome® browser. In fact, if you're really like me you've got lots and lots and lots of bookmarks. The problem with bookmarks is they can rapidly become overwhelming. The other problem is they become outdated as websites get reorganized – but that's a topic for a different Tech Tip.
I've tried different ways of organizing bookmarks. It's pretty easy in Firefox® to create logical folders and drag or move your bookmarks into those folders. Chrome though is a little different but just as simple. To organize your bookmarks in Chrome the first thing to do is look at how many you have (and why). Actually the first thing to do is check to see if you can see your bookmarks bar. If you can't see the bookmarks bar, click on the hamburger bar (three slices or three dots) in the top right corner of your browser. Then mouse down to Bookmarks and select Show bookmarks bar. This will show you a list of current bookmarks (that will fit on your screen). If you've got a lot of bookmarks, you'll see a double carrot arrow (>>) that will extend your bar to show the bookmarks that won't fit on the screen.
If you're already showing your bookmarks, it's time for fun. Any legal nurse consultant will have an idea of how to organize their bookmarks but the best way is to create folders and the fastest way to create folders in Chrome is to right click on a blank space on the bookmarks bar and mouse down to Add folder. Then type the name of the new folder and simply drag the appropriate bookmarks into that folder. But, if you don't have any blank spots on your bookmarks bar you need to go back to that hamburger bar (I'm getting hungry now) and mouse down to Bookmarks and then to Bookmark manager.
You'll see all your bookmarks listed, but more importantly, this will give you all sorts of options including organizing your bookmarks by name (not recommended as you want the ones you use the most handy) and Add new folder. That's the choice we want.
Click on Add new folder, in the popup box type the name such as research sites and click Save. Now you can drag each appropriate bookmark into the appropriate folder. Even better, once you've got your folders created and your bookmarks in them you can drag the folders around on your bookmarks bar to organize them any way you want.
Take care of your bookmarks and they'll help take care of your legal nurse consultant business by making research on your legal nurse consultant jobs easier.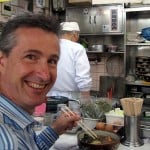 Keep on Techin',
Tom
P.S. Comment here and share your favorite legal nurse consulting bookmark.