Microsoft's Word, Excel and PowerPoint all have tools built in that allow you to quickly access formatting tools, change fonts and font sizes, align text and more. The problem is that these are often hidden and so go unused.
Take accessing your recent legal nurse consultant jobs. Probably you click on File and then on Recent to get a quick list of your recently accessed documents and file locations. Or you've put the open icon in your Quick Access Toolbar and click on that each time – but the limitation on that particular shortcut is it only opens the directory you're in, forcing you to have to click about to get to the file location you need.
Well there's a much faster way. Take a look at row of tabs at the top of your screen. If you have the Ribbon exposed (If you don't, click on the little down arrow in the top right of your screen next to the blue Help question mark, to see it.) you'll notice a brownish-colored file folder with the text Open Recent File underneath it. If you click on icon that you'll see not only a list of your recently accessed documents but also the file locations or directories you've been in. Suddenly everything you need is at your fingertips without having to fish about.
Even better, if you have documents you use on a near-daily or regular basis (or just and remember where you keep them) simply click on the faded thumbtack at the right side of your documents list. That will pin (thumbtack) them to the top of your Recent Documents list so you can access them instantly.
Let me know how these Word tips are working for you!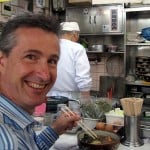 Keep on Techin',
Tom
P.S. Comment here and share your favorite Word shortcuts, tips and tricks.