As you know, the Legal Nurse Jobs Resources section of Vickie Milazzo Institute's LegalNurse.com website is chock full of informative videos for prospective and experienced legal nurse consultants. When you're watching a video, such as the 10 Benefits and Perks of Becoming a Legal Nurse Consultant though, life and work can interfere with your viewing enjoyment.
When you first start watching a video, be sure you click on that video – that will give you full control over the next steps. All Certified Legal Nurse Consultants know that striking the spacebar or the "K" key will pause the video you're watching. But what if you suddenly need to mute it? That's what the "M" key is for. When you're ready to go back, press the "M" key to unmute the video and then the "J" key to rewind and review a particularly pithy thought. The "J" key will take you back in time by 10 seconds each time you press it. That's just far enough to give you renewed context of what you're watching. Once you've got clarity, travelling forward in time is just as easy – simply press the "L" key for a 10 second leap into the future.
I hope these tips will enhance your experience while viewing the videos available on the LegalNurse.com website and you'll use all those videos to grow your legal nurse consulting business.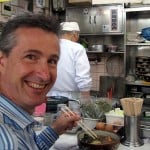 Keep on Techin',
Tom
P.S. Comment and share any keyboard tips you use on a regular basis.