Believe it or not, you can text yourself. "Why would a Certified Legal Nurse Consultant want to text herself?" you might ask. The reasons are simple and were bred from practicality.
First, I used to email myself, but that important reminder often became lost in the virtual email tsunami that washes through my inbox each day. Sorting through email to find it often sent me down the path of pursuing other issues rendering my reminder useless.
Second, I tried setting calendar reminders but found myself pressing the "Snooze" button more often than not. So this system didn't work at all.
Finally, I hit on the perfect solution. I pay a lot more attention to the text notification box because I don't get as many texts as I do email. I'm not a Luddite, but I do text judiciously and the texts I receive are important alerts. That means when I get a text, it's important. By texting myself (and then not reading that reminder) I can leave that unread reminder in my "hot box" of to-dos and am more likely to get back to it and get it done.
If you're one of those people who mainly communicates by text, you can still use this method of sending yourself reminders so long as you don't mark that reminder as "read." And just another reminder – no texting while driving. If it's really that important pull over and text – the life you save may be mine.
Try it today and let me know what you think.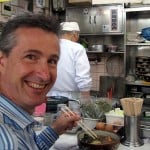 Keep on Techin',
Tom
P.S. Comment and share your favorite way of setting useful reminders.