When's the last time you heard "You make me better"? When I interviewed with my first attorney-client in 1982 he commented, "I do this myself" meaning he analyzed the medical records and did the research. I knew if he gave me a chance I would easily prove to him that I could do the job better. After all, I was an RN on the inside of the healthcare system. There's no way he could know what I knew.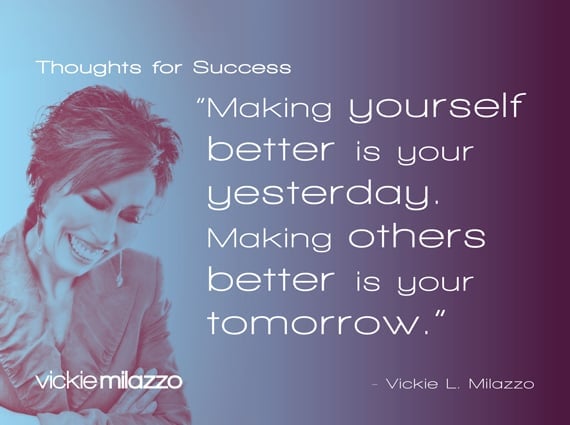 Months later he shared, "Vickie, you're helping to make me a better attorney." Receiving his acknowledgement that I had personally helped him transcend who he was as an attorney ignited a new goal in me for all of my attorney-clients.
I was no longer content to just analyze the medical records. I made it my goal to help every client be a better attorney through my involvement in their cases. The result: a blessed and long career working with attorneys who have made a difference in people's lives and, who along the way, helped me to grow and transcend who I am as a legal nurse consultant through the challenges they put in front of me.
Make yourself better and you'll have a good life. Make everyone around you better and you'll experience your life and career at a transcendent level.
Making yourself better is your yesterday. Making others better is your tomorrow. How about you – when was the last time you heard "You make me better"?
Success Is Yours!
P.S. Comment and share the last time you heard "You make me a better attorney" in your legal nurse consulting business?
Save
Save
Save