One of the most common questions RNs interested in becoming Certified Legal Nurse Consultants ask is "How many attorneys are there in my state?"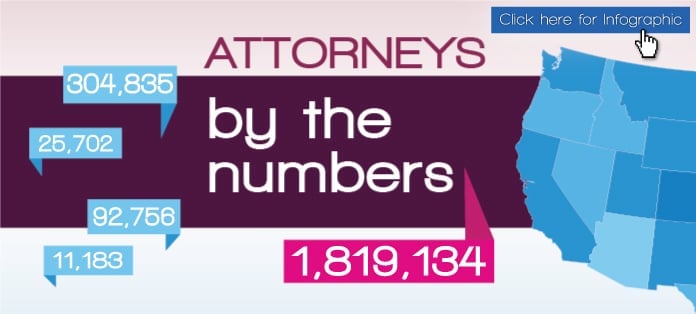 I'm excited to announce that Vickie Milazzo Institute has compiled the latest attorney numbers from each of the state bar associations and there are 131,304 more attorneys practicing law in the U.S. since our last compilation. That brings the total number of attorneys up to 1,819,134 which adds up to 131,304 more opportunities for legal nurse consultant jobs.
Click here for the infographic which shows you how many attorneys are in your state and your contiguous states too! But, don't limit yourself. No matter where you live, you can consult with attorneys from any and all of the 50 states.
Your options for finding legal nurse consultant jobs just got better. 1,819,134 attorneys are waiting for your call.
Success Is Yours!
P.S. Comment and share how you'll use this infographic on the number of attorneys to increase your legal nurse consultant jobs.