Just like Certified Legal Nurse Consultants, phones are getting smarter and smarter. Sometimes they're too smart for our own good. If properly set up and enabled, your iPhone® can review your legal nurse consulting business's calendar, and theoretically check the current traffic to remind you when it's time to leave for an appointment with your favorite attorney-client.
Likewise, if you set geo- or location-tagged reminders, your phone can remind you when you get home from your RN job at the hospital to start working on a report, automatically text your spouse when you leave work, or when you're in the car and passing that attorney-client's office, remind you to stop in and schmooze for that next case. Here's an article on how to set that up. One trick though, the location has to be properly labeled and located in your contacts or you have to be at the location when you set up the geo-reminder. If you can't get your iPhone to work, there's even an app for that – Alarmed ~ Reminders + Timers, available for iOS only.
Of course all this good stuff comes at some expense, and I don't just mean battery life. Smart phones using location-based services (like geo-tagged reminders) use the battery faster because they're using the phone's GPS. It also means you have to surrender your calendar and contacts to your new virtual PA who is now tracking your location, habits and destination – something you might think about regarding doctor appointments or other things.
At the end of the day, the future is in our phones and now our phones can do a better job of keeping us on track. It can transform the way you run your legal nurse consulting business and I think every Certified Legal Nurse Consultant should look into using geo-tagged reminders.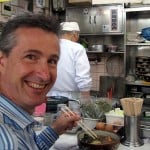 Keep on Techin',
Tom
P.S. Comment and share your experience using geo-tagged reminders and virtual assistants.