One of the most useful websites I've found is Dropbox. It's a cloud-based storage site that allows you to securely upload and download large documents. Certified Legal Nurse Consultants will find this site useful to send a report that's too large to email to an attorney-client.
You'll also find it to be useful for your attorney-clients to upload their medical-related case records that you'll need for your legal nurse consulting cases. No matter how large a document or series of documents is, Dropbox can handle it. It also handles images and video – anything that you need to review for or include in your CLNC® work-product.
Registration is easy. Visit Dropbox.com and follow the simple steps for registration. I recommend you go with the FREE account until you need to upgrade. Once you've registered you can download and install the Dropbox software on your computer. The Dropbox software creates a folder on your computer that syncs automatically with the Dropbox website. You drag a file into the folder and Dropbox automatically uploads it to the Dropbox server.
You can also share folders and files with your CLNC subcontractors and attorney-clients from that same Dropbox folder. One caveat: Dropbox on your desktop constantly checks with the Dropbox server so it eats up some bandwidth and uses some computer resources. For that reason, I chose NOT to install Dropbox on my computer and instead simply use the Dropbox website. That choice is yours (hint-hint). But, before you start using Dropbox with your attorney-clients, here's one important suggestion – whichever side you're working with, plaintiff or defense, always ask your attorney-client if they have a preferred system for document transfer and then use that system instead of Dropbox.
There are a number of ways for a legal nurse consultant to learn how to use Dropbox. Here's a link to a pretty good written tutorial and here's a link to a Slideshare explaining the process in detail.
Finally, here's the biggest benefit of Dropbox – being able to access your documents from anywhere! If you're traveling or at an attorney's office, so long as you can access the Internet via your iPad®, tablet or laptop, you can get to your important documents – if you remembered to upload them in advance.
Give Dropbox a try. I'm sure you'll find it to be another handy tool for your legal nurse consulting toolkit.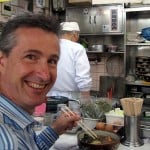 Keep on Techin',
Tom
P.S. Comment and share your experiences with Dropbox or other cloud-based storage sites.
Save