CLNC® consultants often tell me that the reports written for their legal nurse consulting business can become quite long documents. If you've ever worked with a long document you know moving around in that document can be a pain in the butt.
Sometimes you'll want to see (or copy) a portion of well-written text that appears far down in the document. In my Neanderthal days, to keep from losing my place I would mark the text I was leaving with an unusual character like a double tilde (~~) and then page (or search) down to the section I wanted to review. After I'd seen or copied the text I was looking for, I'd hit Crtl+Home to the return to the top of the document and then search for the double tilde (~~) to return to my work. Yes, it was a primitive solution, but one that even a caveman could quickly do.
Well, my highly-evolved CLNC amigos, rejoice as there is a much easier way. Simply open the legal nurse consulting document you wish to edit and then hit Ctrl+Alt+S (all at the same time). This will open a split window and display a split bar that you can move up or down on your page and then left click on the bar to anchor it in place.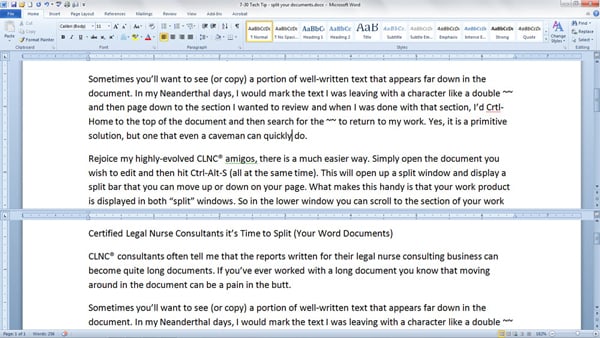 What makes this feature handy is that your work product is displayed in both "split" windows. So in the lower window you can scroll to the section of your work product that you want to review or copy language from, and in the upper window remain in the section you want to paste text into. Now you can edit your document in two different windows allowing you to keep portions of text consistent or relocate it. When you're done editing, just hit Crtl+Alt+S again and the split window will go away!
Now all CLNC consultants have the ability to work in two places at once. Just remember, you can't double your billable hours. LOL!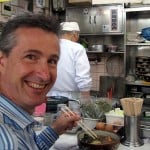 Keep on Techin',
Tom
P.S. Comment here and share your favorite Word tip.