That's an easy question to answer – as long as you're on Windows® 7 or above or the Mac® iOS. Meet either of those two criteria and the answer is any of them. Chrome®, Firefox®, Safari® and even Internet Explorer® are all terrific.
Lately I've been partial to Chrome. It's fast, has a clean look and once I got used to it, works fine. My bookmarks, settings and passwords were easily imported from my old favorite browser – Firefox. Why did I change? Simple, the last Firefox update was incompatible with a few of my add-ons (but they fixed that). However, Firefox still keeps hanging up, that is running in a broken manner, in the background, after I close it. Then, before I can open another link or view a website, I have to go into the Windows Task Manager and stop Firefox, to be able to restart Firefox. That became tedious pretty quickly since Firefox was my default browser (no longer though).
If you haven't tried Chrome give it a try. I think you'll like it. Remember though, as I've blogged in the past, if you're running Windows XP® your best browser is any except Internet Explorer. And, as I've blogged in the past, your browser's security is only as good as your last update so keep your browsers updated. If you want to know my favorite thing about Chrome – it's the image you get if you launch Chrome and aren't connected to the Internet – total LOL if you get the joke.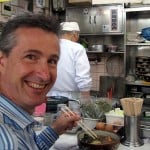 Keep on Techin',
P.S. Comment and share your favorite browser and why you like it.