Every Certified Legal Nurse Consultant loves a GWP – that's a "gift with purchase" – as if you didn't know. One of my favorite things about Vickie getting a GWP is that I get the goofy little pouches that were previously filled with goodies.
Those pouches come in a variety of sizes and colors and are ideal for packing camera chargers and cables, iPod® chargers and cables, miscellaneous computer cables, phone chargers and cables, Bluetooth® earset (and chargers and cables) and, more cables. You can go to a computer store and buy a pouch, but why do that when you can get one for free? Well, I know they're technically not free but hey, I get them free. When I'm traveling I can quickly load my computer case or backpack with my electronic accessories' accessories. I organize them by device and that way I don't have to go looking around to make sure I've got all my accessories properly accessorized. There's one for all my iDevice cables, chargers, etc. Another has my pocket camera, charger, USB cable and spare batteries. There's one for the HD video camera and its accessories and finally, one that carries my iPod Nano and the Bose® noise-cancelling earbuds that I. Will. Not. Fly. Anywhere. Without.
The next time you get a GWP, don't automatically toss out that little pouch. If you're like me you'll find a plethora of uses for it.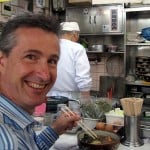 Keep on Techin',
Tom
P.S. Comment and share what uses you find for GWP pouches.