I love writing what I call the "4-Ts," Tom's Tuesday Tech Tips, and I've tried to cover a variety of subjects to help you with your legal nurse consulting businesses and technology. Often the 4-Ts spring from issues I'm having or have helped someone else solve. And, I've covered serious subjects such as computer upgrades, keyboard shortcuts, smartphone security and anti-malware software, but every once in a while I have some fun and cover subjects such as the Brolly Umbrella for text addicts.
Today, with Halloween in mind, I'd like to ask my CLNC® amigos what other types of subjects, issues or helpful tips you'd like for me to cover – either treats or tricks? Comment and let me know. I hope you all have a Happy Halloween!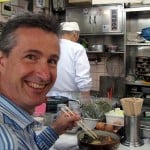 Keep on techin',
Tom
P.S. Comment here and share the subjects you'd like me to cover in the future. You might end up getting a treat (or a trick).