Printers are an essential piece of business hardware for any Certified Legal Nurse Consultant. In the good ole' days, a high-quality, crisp black and white color laser print out was a requirement when submitting report copies to your attorney-clients. For those of you that send printed, paper copies I think that's still true. There's nothing worse for an attorney than sitting down to annotate or highlight a document and having the ink smear across the paper and even more worse, getting it onto his white French-cuffs.
But, how many of you still submit paper documents? It's more likely you're emailing your attorney-client a secured PDF of your work product. So the decision comes down to what kind of printer do you need at home?
There are a lot of factors that go into that decision. Luckily, most CLNC® consultants will require a home office printer – not a small office or work group printer. Even better, you can combine that need into a multi-function printer (MFP) that includes a printer, scanner and even something once known as a fax. These are good bargains and those extra features come in handy.
The next decision point is whether you print, or expect to print, in color or in black and white. Monochrome lasers are fast, clean and inexpensive. Color lasers are good for lower quality photos and things like printing Tuesday Tech Tips, brochures, handouts or illustrations in a report but tend to be expensive to operate. Color inkjets are terrific at printing photos, but you'll need special photo paper and probably photo cartridges to do that. Their regular-duty supplies are less expensive than color lasers but still pricey (and I don't recommend refilling cartridges yourself).
So what's a CLNC® amigo to do? If I was starting a legal nurse consulting business and had space in my office, I'd start with a color inkjet like the Epson Workforce WF-3540 below.
As you review these options, some of these are Mac® compatible and some may not be Win8 compatible so read the product details carefully.
Let's get started with a simple laser printer:
If you want wireless printing abilities try the:
If you're looking for a monochrome MFP consider:
For a small color laser printer consider:
If you want a great inkjet-based color MFP there's the:
If you just have to have a color printer around for projects, recipes, homework and anything else you can think of, dive into the shallow end with a:
If you have few more dollars to spend consider a more flexible inkjet such as the:
There you have a good start to your printer purchasing. Remember, don't buy more than you need and make sure what you buy fits your needs. Some of these may have newer models replacing them so don't get focused on an older model – newer is often better.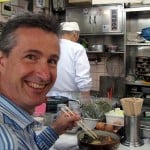 Keep on techin',
Tom
P.S. Comment and share what printers you have and why you purchased them.
P.P.S. Disclaimer: These recommendations are guidelines only. Vickie Milazzo Institute does not specifically endorse or recommend any particular equipment or manufacturer. We do not guarantee any product or service offered by any vendor mentioned.