Last week I talked about desktop computer specs and promised to tell the Certified Legal Nurse Consultants the true Hollywood story of my new laptop purchase. As you can guess, I was picturing a sleek ultrabook. Something 1/8" thick, faster than a speeding bullet, more powerful than a Cray® XE6 and weighing less than a change of mind. Turns out I ended up with a 11"x19"x 1 ¾", 7 lb. "desktop replacement." I don't have a problem with that because when I'm saving the free world on a daily basis, I need the computing power (You're still here aren't you?).
But, what sort of laptop do my CLNC® amigos require? First, let me give you the same advice I gave last week: Whether you buy a Mac® or a Windows® box isn't important anymore. What's important is that you have Microsoft® Office for Mac and a learning source to help train you to use your new computer.
Let's get started with some specs for the mobile Certified Legal Nurse Consultant. First, any notebook from Dell, Fujitsu®, HP, Lenovo® or Asus® will do the trick.
Intel® 2nd or 3rd Generation Core™ i-series processor, 3.2 GHz or faster.
8 GB or more of DDR3 RAM up to as much as you can afford.
A 64 bit version of Windows 7 Home Premium is required to use more than 4 GB of RAM. You may have to buy Windows 8 with downgrade rights to get Win7 (go for it).
500 GB or larger hard drive running @ 7,200 RPM or faster.
Fast rewritable DVD+R dual-layer drive (non-Blu-Ray) or DVD/CD-RW drive.
15″ or larger screen.
Built-in 10/100-Mbps Ethernet adapter (for networking capability or a broadband connection).
802.11b/g/n wireless solution or card.
Integrated sound card.
Built-in web cam, microphone and speakers.
Integrated 3D-capable graphics or ATI or nVidia card – 128 MB or more.
Four or more USB ports.
Additional battery.
Optional docking station or port-replicator with additional monitor(s), mouse and keyboard.
2-3-year on-site service warranty.
Mac notebooks are more expensive but have that high "wow" factor. For you, since it's form before price, you'll want a minimum of a 15" MacBook Pro® and if you have any spare money, consider upgrading to the Retina display.
2.6GHz Quad-core Intel Core i7, NVIDIA GeForce GT 650M with 1GB GDDR5 memory.
8GB 1600MHz DDR3 SDRAM – 2x4GB RAM.
750GB Serial ATA Drive @ 5400 rpm.
SuperDrive 8x (DVD±R DL/DVD±RW/CD-RW).
Mac OS X Mountain Lion.
iWork preinstalled.
Microsoft® Office for Mac.
Built-in 10/100/1000BASE-T Gigabit Ethernet.
802.11n wireless solution or card (a/b/g compatible).
AppleCare Protection Plan.
Again. We now live in a world where your computing preference doesn't matter. Just be sure you learn how to use what you buy.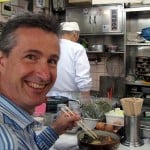 Keep on techin',
Tom
P.S. Comment and share whether you prefer a desktop or laptop.
P.P.S. Disclaimer: These recommendations are guidelines only. Vickie Milazzo Institute does not specifically endorse or recommend any particular equipment or manufacturer. We do not guarantee any product or service offered by any vendor mentioned.