It's rare to find a home that has less than one computer. It seems like every Certified Legal Nurse Consultant's household has a multiplicity of devices – laptops, desktops, smartphones and tablets. All are computers and, ignoring the wireless printing needs of the smartphones and tablets, need Internet and printer access. The simplest way to achieve this is through a home wired or wireless network.
So long as all your computers, printers and ancillary networked devices are in the same room, such as your legal nurse consulting home office, wired networks are the easiest and simplest to set up for any CLNC® consultant. First, you probably have a DSL or cable modem and an attached router somewhere in the room. If you do, you simply plug a Linksys SE2800 8-Port Gigabit Ethernet Switch into your existing router. I like gigabit speeds as they're 10x faster than most standard Ethernet switches. You may never get to gigabit speeds unless you have a gigabit router, but we'll fix that later, plus it sounds cool to say.
If you don't have an existing router, gigabit or not, you can buy a wired router and plug it into your modem and then plug your switch into your router. But why do that? Hello, it's 2013! You probably already have at least one or two wireless-enabled devices in your home such as a laptop, printer, smartphone or tablet. Why, my CLNC® amigos, limit your devices to one room? Being able to access the Internet or print from any room in the house will change your life (so long as you keep them out of the bedroom).
The easiest way to wirelessly enable your legal nurse consulting business's home office and your home is to plug a wireless router such as the ASUS RT-AC66U Dual-Band Wireless-AC1750 Gigabit Router into that DSL or cable modem. Mount it at a high spot in the room for best range. You can then plug your switch (see above) into that wireless router with a long cable. So long as you've properly secured that router, you'll have a safe home network you can access from everywhere in your house and possibly even out to the yard.
An added plus is that you can watch the CLNC® Online Certification Program on your smartphone or tablet without over-extending your data plan. Yes! Your smartphone or tablet can automatically switch to use the home network instead of your data plan.
The Asus wireless router is a little expensive but should be worth it in terms of speed. You may also need to bring in the Geek Squad or an outside party to help set up and secure your network. It's easily within your power to set it up, but here's an article that will help you just in case.
Don't be afraid – wireless networking will change your life!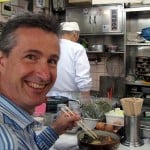 Keep on techin',
Tom
P.S. Comment and share whether you've set up a wireless home network and why or why not.
P.P.S. Disclaimer: These recommendations are guidelines only. Vickie Milazzo Institute does not specifically endorse or recommend any particular equipment or manufacturer. We do not guarantee any product or service offered by any vendor mentioned.