You've all read about how much fun I had replacing Vickie's keyboard. I'm not that much of a slow learner, so when it was time to help my parents find a new keyboard, I was going to do this right the first time.
While searching, I found one that I think will work well for my folks as well as for all Certified Legal Nurse Consultants. It's Azio's backlit, LARGE PRINT, keyboard. By large print, I mean it won't change the font size on your computer screen, but instead has LARGE PRINT on the keys themselves. And if that's not cool enough, you can rotate between three different colors for the LED backlights so you can type in the dark!
This keyboard won't keep my parents FROM SHOUTING when typing status updates on their social media accounts, but it will make it easier for them to type those updates. I'm a pretty fast typist and haven't looked at my keyboard in years. In fact, if the lettering labels came off my keys I could probably keep functioning, but I know that not every legal nurse consultant was born with a keyboard and mouse in their hands. I can't help you stop moving your lips when you read, but if you're one of those people who looks at your fingers when you type, this is for you!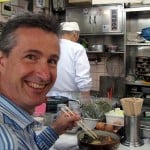 Keep on techin',
Tom
P.S. Comment and share whether or not you'd consider a large print keyboard for your legal nurse consulting business.