Before I take up cruising as a lifestyle I need to contemplate the cost of a whole new wardrobe made up completely of expandable clothing. I think I've found every possible place to eat on the ship, and eaten there! What about you?
Today is our final port day and we're here in Cozumel, Mexico. If you haven't gotten enough souvenirs this is a great place to complete your Christmas shopping. For nurses who want to get up close and personal with sea life there are a bunch of different excursions. You can choose to swim, dive or snorkel with nurse sharks (really), sea turtles, sting rays or even dolphins.
It's also a great place to get your wild thing on and go Segway or Harley-Davidson riding. I know which tour I'm picking (if I remember to bring my Jimmy Choo biker boots, that is). I'm sure the CLNC® consultants will make their own fun choices.
By now we all know that the world didn't end on December 21, 2012. While you're here in Mexico you can take a trip to the Mayan ruins at Chichen Itza to see where all those rumors began. It's one of the most important archaeological sites in the Americas. You get to visit and climb the Pyramid of Kulkulcan, the Ball Court (where you literally played for your life) and the observatory where the Mayans created their calendars and did their star-gazing. It's a 10 hour day with traveling by ferry and bus but it's worth it.
If you still want to see Mayan ruins but aren't up for 10 hrs on a Mexican bus (bring your chickens), you can still visit the cliff-side ruins at Tulum.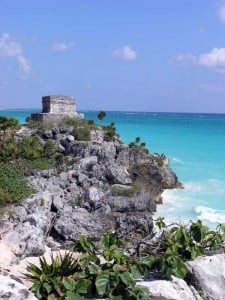 Standing on the cliffs looking out over the turquoise waters you'll instantly be transported back in time.
More tomorrow!
P.S. I can't wait to see you all at dinner and hear about your excursions.
P.P.S. Comment and tell all the CLNC® Cruisers to come home soon.