Every once in a while, when you're researching on the Internet for one of your legal nurse consulting projects, you'll run across a website without clear ownership. It may totally support or contradict a position you're taking as a Certified Legal Nurse Consultant in a case, or it may simply be the only site that takes that position. To help determine a website's potential credibility (or lack thereof), you'll want to determine who owns the site. Searching around the site for its "contact us" or "about us" page may not help, or you may not have much luck cross-researching the company name listed there.
Well my CLNC® amigos, here's another way to help learn who that owner may be. Simply navigate over to any domain registrar, such as Register.com or GoDaddy.com and scroll up and down their home page until you find a link to the "whois" search. Once you've clicked on that link, you'll be presented with an empty box into which you'll enter the domain name that you want to look up. Click on the look-up button, fill in the "captcha" box and you'll be taken to a page that tells you who owns the website.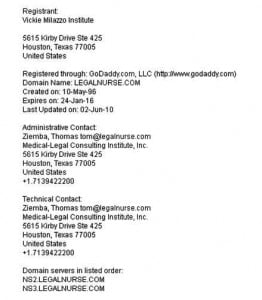 Once you know the owner, you can cross-reference them on the Internet to see what ties, if any, they have to the issue you're researching. If the owner's name is hidden through a privacy or proxy service, there's probably a reason and you won't want to include that website in your research.
As an added bonus, the whois lookup will also tell you what "domain servers" are being used to point traffic to that website. Generally, one company will use one set of domain or name servers. Savvy CLNC® consultants cross-reference those domain servers on the Internet to see what other sites are related to that same owner. The results could be revealing or even shocking.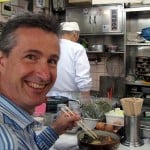 Keep on techin',
Tom

P.S. Comment here and share your favorite Internet research tip.