Hard to believe, but this is my last Tuesday Tech Tip for 2012. It's been an exciting year with so many new gizmos and gadgets coming out. I'm sure every CLNC® consultant has a major case of tech envy. There have been new models of iPads®, iPhones®, Galaxy phones, Google® and Windows® Surface™ tablets and then, if that wasn't enough – Windows 8 changes the desktop and phones. It's been enough to make my head spin, and I can't wait until Christmas to see what little goodies Santa leaves under the tree for me.
What's left to be invented to put to work in your business as a Certified Legal Nurse Consultant? I'm not sure (If I knew, I'd buy stock in it!), but whatever it is, I'm sure it's going to be exciting and revolutionary in ways we haven't imagined – but somebody, somewhere is imagining right now.
Here's looking forward to 2013 and beyond. I'm excited and I hope you are too!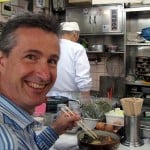 Keep on techin',
Tom
P.S. Comment here and share what you want Santa to leave under the tree for you!