Reminders are a necessary part of calendars, and for busy Certified Legal Nurse Consultants, calendars are a necessary part of life. Luckily, many calendaring apps give you the option to set an aural (and sometimes vibrating) "reminder" or "alert" for a calendar event. Alerts help ensure that you don't miss that appointment with your favorite attorney-client or to make that important call marketing your legal nurse consulting business to a new attorney. You can create an alert as a reminder for an event that is anywhere from minutes to hours, to days away.
Overall, I think that alerts are a good thing, but like any good thing, you can get too much of it. Here's where the problem comes in – if the organizer of your Tuesday meeting has a 15- or 30-minute alert as the default on their calendar, every appointment, meeting, reminder, phone call or other calendar entry they send out – no matter how trivial or important – has an associated alert. Then, when this seemingly innocent party uses that calendar to schedule a meeting or group reminder – everyone invited gets that same alert – whether they want it or not.
This means a 15-minute vibrating, beeping, chiming, barking or quacking warning for the pre-meeting, the start of the meeting, the first bio-break (Yay!), washing your hands after the bio-break, the meeting re-start, the lunch-break, afternoon breaks, naptime and even the meeting end (Double-yay!), etc. You get the picture. Luckily, at Vickie Milazzo Institute, policy bars all phones from meetings, or else we'd spend the whole meeting dismissing alerts, instead of discussing really big issues.
But wait, there's more! If you're like most of my CLNC® amigos, you use multiple devices. That means you have a desktop or laptop computer plus your smartphone. So, depending on your calendar program, you may get twice the fun because the alerts will sound on both devices – even if you dismiss it on one device. In other words, whether you're in that important meeting or out and about exhibiting at an attorney conference, meeting with clients to market your CLNC® business or just sitting in on a deposition and you dismiss those alerts on your smartphone, you'll have to play whack-a-mole all over again and dismiss those alert pop-ups one more time when you get back to your office and open your calendar on your computer (Play it again Siri!). Conversely, if you dismiss the events on your computer, you'll have to dismiss all those alerts before you can send a text ("Off to a meeting!") to your significant other.
I'll grant you there are certain events that Certified Legal Nurse Consultants don't want to miss – an important meeting, a phone call or especially my birthday. Those events certainly demand an appropriate alert. But don't let a default setting rule your world and everyone else's.
Turn off the default setting on your calendar and use alerts only for the important events – the ones you can't or shouldn't miss. Otherwise, as Vickie likes to say, the alert becomes part of the noise – not part of the signal.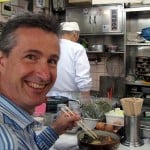 Keep on Techin',
Tom
P.S. Comment and share how (or even whether) you use alerts on your calendar.