The days of unlimited data flowing to our smartphones and tablets is ending. If you're a Certified Legal Nurse Consultant who has had your access speeds "throttled" by your cellular service provider for uploading or downloading too much information (music, movies, podcasts, legal nurse consulting research, photos, etc.) there are solutions.
First, all modern smartphones have the ability to switch to "airplane mode," which actually turns off access to the cellular service network. Once you've switched to airplane mode the newer phones allow you to turn on wireless access. With more and more CLNC® consultants having wireless networks in their home, workplace or favorite free Wi-Fi locations they can simply use that network to download/upload your data. Just remember to switch your phone back into "phone" mode by turning airplane mode off when you're done.
These simple steps can save the savvy Certified Legal Nurse Consultant from paying overage charges. With many hotels, airports, coffee shops and businesses offering free (or low-cost) wireless, if you're a globe-trotting CLNC® amigo you can take your smartphone or tablet with you (in airplane mode) and stay in touch with your attorney-clients, keep up with email, download books, music, movies and even update your Facebook status, etc. without incurring overseas data access costs (if you're careful).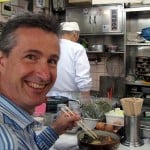 Keep on Techin',
Tom
P.S. Comment and share your experiences with excess data charges.