Email is not perfect. Some days one person's messages deliver and the next day they bounce and you never receive them. Sometimes an email leaves your outbox and never arrives but you don't know it. Some days you get lots of spam and others you get lots more. Is there a reason for this? None that anyone will ever admit to, because there are just too many gears in the machine.
A representative of one of the largest commercial email marketing companies told me that many Internet service providers lock down their spam filters so tightly that sometimes legitimate email gets blocked, without the intended recipient (or sender, for that matter) ever knowing it. While this helps them control data flow and traffic – it can hurt us. Like many of you, I get my email through the mail server for our domain – LegalNurse.com in my case, but even I lose legitimate email to our spam filters.
Today many businesses are going to all-email communication and ditching paper communications entirely which means that you might not get an important notification because it didn't pass some random spam test. It seems that a distressed widow in Nigeria with a spare 3.4 million dollars can get email through our filters but my managed network hosting provider cannot (duh!). The more important the communication is, the more likely you won't receive it (it even happens to me).
LegalNurse.com has gone partially paperless (it's our bid to partially save the planet). Expiration notices for your CLNC® Certification, post test scores, routine communications and important deadlines are all sent via email. You may not be receiving all of our email without even knowing it. If you're a Certified Legal Nurse Consultant and you're not receiving email messages from us, one of three things has happened:
We don't have a correct email address on file;
You opted out of a previous email communication from the Institute and our email servers unflinchingly continue to honor that request and refuse to send to you; or
Your ISP is blocking our email to you.
So what's a CLNC® consultant to do? There are four steps you can take:
The easiest is to send us an email telling us to add you back to our email lists. We'll respond quickly.
If you have the available control in your email, "whitelist" the LegalNurse.com domain.
If you don't have control, contact your Internet service provider and ask them to "whitelist" the LegalNurse.com domain. If you don't know how to do this then go to step 4.
Get yourself a Gmail account and use that for communication from the Institute.
When used properly, email can be a powerful marketing tool – so long as it's actually getting through and you're actually receiving it.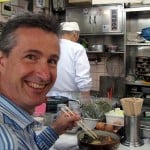 Keep on Techin',
Tom
P.S. Comment and share your favorite email tip.