I've already given you a Tech Tip on how to use tabbed browsing to enhance your legal nurse consulting research. I've also Tech Tipped on how to recover your work in your web browser in the event that you accidentally close it out. Today's tip works in Firefox®, Chrome® and wonder of wonders, in Internet Explorer® 8. If you accidentally close a tab, before you shout Holy Tech Tip Tom! Simply hold down your Control button, your Shift button and hit the T (for Tom) key. Each time you give your computer the <Ctrl><Shift>T salute it'll open up the last tab you closed in your web browser. If you're a Safari® user, you can only re-open the last tab you closed, but at least it's a simpler salute <Ctrl>z (for Ziemba).
Okay my CLNC® amigos, armed with these Tech Tips you'll never lose a second's work again!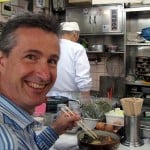 Keep on Techin',
Tom
P.S. Comment and share your favorite browser short-cut or tips.