One of my favorite Christmas gifts for Vickie in 2011 was a Hercules X-Stand Ergonomic Portable Natural Airflow Cooling Stand (trust me, that's a sexy gift coming from a tech-geek). Vickie lugs her laptop with her to all of our CLNC® Certification Seminars, vacations, business trips and our annual Christmas Migration. When she's sitting at a hotel desk or table working away, the laptop gets hot. At home her computer's dock helps prop it up for proper ventilation, but on the road it lies flatter and hotter than a stretch of West Texas highway in the summer. Hotter running temperatures lead to hardware fatigue and my CLNC amigos all know there's nothing worse than hardware fatigue.
But, the Hercules X-Stand doesn't just provide adequate space for airflow underneath and around the laptop, it elevates it slightly to give Vickie a better typing angle (to help ward off carpool and tunnel syndrome) and viewing angle. It's small, portable (you should have gotten that from the name) and folds up nicely to fit in our Mobile Max rolling computer bag.
This may not be everyone's idea of the ideal Christmas gift, but it did put a smile on Vickie's face (plus she got some other really cool stuff too). Buy one for the traveling geek, I mean Certified Legal Nurse Consultant in your family (I did), and I guarantee she'll like it (she did).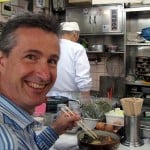 Keep on techin',
Tom
P.S. Comment and share what techno-Santa brought you this past Christmas.