Living in Houston has its advantages and disadvantages (think world-class dining versus world-class mosquitoes). One of the biggest advantages used to be the ability to hop onto a Continental flight and go just about anywhere non-stop. With the merger of Continental and United, that's not as true. Sure, Houston is still a main hub with flight to lots of fun places, but now we've got to fly United to get there from here. Airlines are one of the few industries that keep getting worse instead of better and United is proof.
In any event, Vickie always tells me to make the best of any situation; so with that in mind we took a chance and flew another carrier to the city of our final destination. I won't get into the service and seating configuration, but that flight made me yearn for United. I guess the devil you know is better than the one you don't and the mold is always greener on the other airline's muffins.
Anyway, on the "other" airline I was pleasantly surprised to find that they offered Internet access. I've long longed for access to the 'Net whilst airborne and here it was presented to me for a simple fee of $9.95 for the entire flight. I don't know about Certified Legal Nurse Consultants, but as much as I love the quiet time of a flight (Lord, please don't let smartphone users figure out how to make Skype® calls over the airline Internet). I also need the Internet to back up or research what I'm writing about and suddenly I had that ability (sort of).
Bottom line for my CLNC® amigos, if you take to the air and have the chance or need for 'Net access and your airline of choice offers you the opportunity, take it. So long as you're running applications that don't soak up a lot of data transfer you should be fine. Good old-fashioned Web research and email are fine, but I noticed that Outlook ran very slowly due in part to the large volume of data Outlook® synchronizes with our Exchange server. Vickie found Facebook® to be somewhat painful but manageably so. I don't use Google® Docs or Microsoft® Office 365, but I imagine that "cloud-based" apps would be pretty slow as would watching YouTube® videos or streaming Pandora® music. I was able to retrieve a document from the LegalNurse.com network and, while it took almost five minutes, I was able to work on it once it finally downloaded (and it took just as long to save it back to our server).
The takeaway for busy CLNC® consultants is that if you need to work on an airplane, plan ahead. Inflight Internet access is great but its utility for your legal nurse consulting business has limits. One recommendation – disable or don't plan on using any applications that "report in" or exchange data in the background, such as iTunes® or DropBox®. Don't try to stream anything that's not a body fluid, and if you're going to need a large document, image or file, it's better to take it with you than try and pull it from your home network or the "cloud."  If you're simply writing reports or correspondence for your Certified Legal Nurse Consulting business and attorney-clients, you'll be fine. One final warning – airline Internet service is probably as secure as the network in a Starbucks® or McDonalds® so if you're pulling up sensitive information use a Virtual Private Network (VPN) for protection, either your own or a free service such as CyberGhost.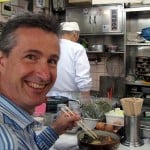 Keep on techin',
Tom
P.S. Comment and share your own experiences with airline Internet access.