One thing I stress to CLNC® consultants is that it's not how new or how fast your computer is, it's whether or not you're using it correctly. Using a computer correctly goes far beyond having the proper software necessary for your legal nurse consulting business, such as Microsoft® Word, Excel and Outlook and even goes beyond running Windows® 7 or XP or, heaven forbid, a Mac®.
What we need to remember is that using our computers correctly means using them ergonomically. That requires us to create an ergonomic workspace because without it, we'll wear out long before our computers do. So what is a Certified Legal Nurse Consultant to do in order to avoid carpal tunnel syndrome, wrist pain or just to be able to sit for long hours typing away at her legal nurse consulting work product?
First, make sure that your keyboard and mouse are at the same level as your elbows or slightly below. You want your wrists as straight as your forearms when you're typing. I have a keyboard tray that slides underneath my desk and holds both my keyboard and my trackball mouse. This ensures my keyboard stays at the proper level. If you don't have a desk that supports a keyboard tray and have to place your keyboard and mouse on your desk, simply raise your office chair up to that proper level (don't just raise the armrests – that'll put more stress on your wrists and arms). It may feel funny at first, but you'll get used to it.
Second, consider getting rid of your mouse and investing in a rollerball or trackball mouse. Using one of these will take the pressure off your wrist. Once you get used to the difference, you'll love it; it's also much more accurate than a regular mouse. Whatever type of mouse you use, make sure your mouse and keyboard are close together. This cuts down on unnecessary, repetitive arm movements.
Third, keep your feet firmly on the ground. You want them to be flat, with your hips slightly higher than your knees. Since you'll be raising your chair to get your elbows above your keyboard anyway, this one will be easy. If you don't have an adjustable height chair, it's time to invest in one.
Fourth, keep a stiff upper back. You want your monitor, or dual monitors, elevated enough to be at eye level, preferably where you're looking just above the center of the screen. You shouldn't have to tip your head forward or backwards so see your screen while you're working. Here's another tip – invest a couple of your hard-earned earned dollars in a typing/document stand, so when you're typing you can prop up the documents you're working from in front you. This way you can simply tip your eyes up from the medical records to your monitor without moving your head.
The fifth and most important part of your legal nurse consulting business office is your chair. The proper office chair can make all the difference in your CLNC® business and your longevity. Before you buy a chair, do a little research, make a site visit and sit in every model you can find before you buy. Test drive your chair by rolling it up to a desk in the showroom and pretending to type. If you can, have your prospective chair delivered on approval, so you can try it out on the job, so to speak. I like a tall-backed chair for total back support, while others may like a short-backed chair with good lower-back support. One businesswoman we know has a ball-chair that forces her to sit upright. It doesn't matter what kind of chair you pick, as long as it's ergonomic. Whatever works best for you – works best for you.
Take the time and spend the money to create an ergonomically-correct office and your body will thank you. While you're working away at your legal nurse consulting business, remember to take frequent breaks. As nurses you're not used to sitting for long periods of time – so don't start now!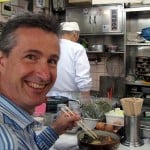 Keep on techin',
Tom
P.S. Comment and share your favorite tip for making your office space comfortable.