I recently installed a new piece of freeware on my laptop. Freeware is software that doesn't cost anything. In other words, it's someone's gift to the world – think of Firefox as an example. Quite often freeware is open source software, which means that after the creator gives up trying to fix the bugs in the program, he or she puts the source code on the Internet and lets other people turn it into something reliable. Again, think Firefox.
It's fairly normal for me to test any software, freeware or not, before recommending it to my CLNC® amigos via Vickie's Legal Nurse Consulting Blog. I won't tell you the name of that program, or what it was supposed to do, but I will tell you that not only did it not do as advertised, it also put one heck of a whammy on my computer. Every time I launched this program, my computer froze, and other things didn't work well, if at all. Even the uninstaller wasn't working.
So I took the same steps any Certified Legal Nurse Consultant would in a situation like this. First, I downloaded and updated the free anti-malware program Spybot Search & Destroy and scanned my computer for malware – just in case this new program was really malware in disguise. The good news was, other than a few routine tracking cookies (since deleted), the offending program wasn't identified as malware.
Still somewhat baffled, I decided to reach back in time to restore my computer's Windows® installation to its last known functioning point. To do so on my XP machine, I clicked the Start button, then clicked Programs, Accessories, System Tools and finally System Restore. I selected the radio button next to Restore my computer to an earlier time, clicked Next and selected the blue-colored date that was immediately prior to my attempt at installing the new program. I clicked Next again and let Windows do its wonderful work.
After a fashion and after a reboot, Windows was restored to a point prior to that new program making any changes. All my programs that were affected by the new installation worked smoothly again and I just deleted the options for that new program from my various menus. I probably could have tried to run the offending program's uninstall routine again, but since it didn't work the first time and the program didn't work, I had no trust in the uninstall process. Instead, by hiding it, I can pretend it's not there. Any damage done was repaired – so why tempt the BSOD (Blue Screen of Death)?
What is System Restore? In the words of Bill Gates himself, "You can use System Restore to undo harmful changes to your computer and restore its settings and performance." What system restore does is create back-up points or restore points at various times, either automatically or when you install certain programs (which are undefined by Microsoft®). If something goes wonky after an install (or even a bad system crash), you can then restore your system to a point where it was working and you're good as new!
If you plan on installing new software, you may wish to manually create a restore point in case what happened to me happens to you (bad install or bad programming). To do that, follow the same steps as above but instead of selecting the radio button next to Restore my computer to an earlier time, select Create a restore point, click Next and follow your machine's instructions. After the restore point has been created, go ahead and install your new software. If needed, you can restore your Windows system.
For lucky CLNC® consultants with spiffy new machines running Windows 7, it's even easier – click the Start button, type in the words Create a restore point and click the restore button. Your newest restore point will be created before your eyes! To restore from Win7 click the Start button, type in the words Restore my computer and follow the instructions from there.
Now all legal nurse consultants have the ability to not only restore their Windows system, but also their sanity.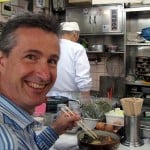 Keep on techin',
Tom
P.S. Comment and share your system-saving tips.