Unless you're an OB nurse, you probably don't have many cord management skills. If you're like me, the backside of your desk is a mess – of cables that is. One thing's for sure, no matter who you are, the more gadgets you have, the more cables you have.
On the desk at my home office, I have a flat-bed photo scanner, a UPS/Surge Protector, the dock for my laptop, the 60" HD flat screen monitor (just kidding), the ScanSnap document scanner (indispensible) with all of their associated power charger and connector cables plus all the various cables for my computer, mouse, keyboard, Ethernet and my devices – the iPhone® cable, the female-USB extension cable for my thumb-drives, charger for my Bluetooth headset and the little plug for my various digital cameras. It kind of looks like Medusa's hair back there (and is just as scary).
On my desk at LegalNurse.com, it's even worse because there are attached printers and power cables for my USB hubs on top of all the other cables I've listed above plus the dual monitors with their cables and my USB Plasma Ball (I'm not allowed to have a Tesla Coil due to some obscure safety regulation).
In January, Vickie got a new computer after her old one quit. Her desk is a paradigm of cable management neatness, despite the Dragon Naturally Speaking headset, speakers and iPhone and headset cables. All her cables are nicely managed because I did a fresh installation. That's what happens when you start over. (Note to self: build new garage!)
So, how does a Certified Legal Nurse Consultant regain control of her office from the plethora of cables, connectors and other cords that accumulate in the open space behind her desk?  Even more important, why would she want to?
Well my CLNC® amigos, the answer is simple. Eventually you'll need to replace a device, power supply or whatever. After spending half the day unplugging and replugging different cables, you'll get to the one you want. (Want to know why the one you want is always the last cable you unplug? It's because you stop once you've found the cable you're looking for.)
Instead of blindly unplugging and replugging, I recommend that once a year you power down your entire desk and then take a few moments to untangle the mess by completely unplugging all the cables (one at a time) and coiling them on top of, or next to, the device to which they belong. Then pull out your trusty label-maker, and label each cord with the name of its device (ScanSnap power cable, USB roller-mouse, etc.).
Once they're all labeled, you can plug them back in, one at a time. After you've plugged in a cable, find someplace to hide it where you can't easily see it and coil the cable around your fist. Next, grab some Velcro® cable ties in various colors and tie it up to keep it neat. I like to match colors by device, which makes it easier than looking for the label. If you don't want to spring for Velcro ties just get some plastic zip ties from your local hardware store and fix them in place. However, I don't like zip-tying cables together with other cables because as soon as you do, one will fail. Instead, I recommend you buy a flexible cable cover to hide the obvious cable runs. I even have some flat ones that run along the wall and hide my Ethernet and power cables.
By taking a few minutes, you can turn that messy desk into a work of art. When you're done organizing the cables on your desk, feel free to stop by and do mine!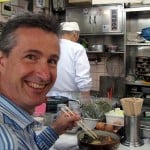 Keep on techin',
Tom
P.S. Comment and share your cable organization stories – fun or frightful.