I was writing a Tech Tip on a flight home and needed to fact check a statement. I went to open up Firefox® and was suddenly gripped by the cold realization that I couldn't access the Net; at least until we were wheels down in Houston and I could activate my wireless card. For that moment, I was disconnected, all alone in the world, and while I wasn't experiencing withdrawal, I missed the convenience of Googling something of interest for your legal nurse consulting businesses. Continental/United, my airline of lack-of-choice has yet to offer in-flight Internet access. Other more progressive airlines are already doing so, charging an added cost for it like they do for seat cushions, food and restroom access.
While I was feeling the pain of being offline I started wondering, is Internet access on airplanes a good thing? Can we be connected too much or for too long? Is it a good thing to be offline for a little while or is the Internet so much a part of our lives that we can't live without it, even for that short flight from Bossier City?
I'm sure that Certified Legal Nurse Consultants would agree that there's no easy answer. I think of it as a double-edged sword. For more than 748,000 miles, airplanes have been a sanctuary for me. Once I'm above the clouds and high over the ground, each flight becomes an opportunity to disconnect from the grid and power out on Big Things. There's no email to answer, nobody to un-friend, nothing tweeting and no LOLcats to view. As long as the person in front of me doesn't recline into my lap, some of my greatest creativity comes when I'm airborne. Granted, when I hit the ground and turn on the iPhone® I pay the price for that freedom. There's usually one or two urgent voicemails and 25+ emails that need responses, but I can usually get them done before we hit the gate.
Do I need airborne Internet access? Not really. Do I want airborne Internet access? Yes – for fact checking. Do I want others to have it? It depends on what they're doing. At the end of the day or the beginning of a flight, I'd rather have Internet access than cell phone service on airplanes and therein lies the rub. Once we get Internet, somebody will crack open the Wi-Fi connection on their iPhone and start making Facetime® calls and that will be the end of my sanctuary.
As I like to say, the future is in front of us and the Internet everywhere is at hand, for better or for worse. Today, I'd like to hear from you. How do you feel about staying connected and about your neighbor next to you talking on his/her cell phone in flight? Would you rather be connected or free? Sound off and let me know (unless you're in the air).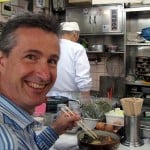 Keep on Techin',
Tom