Last week I participated in a site visit to the location of Stedman Graham and Vickie's upcoming Women Embracing Leadership event. Part of the purpose of the visit was to check out the presentation technology and to get the lay of the land. Vickie presented her Inside Every Woman seminar there several years ago but we needed to ensure that their presentation tech was up-to-date. Happily I can  report to my CLNC® amigos that it has!
That visit got me thinking about courtroom technology. A long time ago, high tech in the courtroom was the microphone on the witness stand. There were whiteboards and markers, attorneys commissioning poster boards of key exhibits, copies of photographs for the jury and even anatomic models. As time progressed, attorneys began showing animation and event reconstructions and playback of video-depositions via VHS video or DVD.
Today, courtrooms are slowly moving forward to join the high-tech world. For some jurisdictions that may simply be wireless Internet access available to counsel. Others may have document cameras that display evidence on a screen or large flat-panel TV. A few, like this federal courtroom in Mississippi, have gone pretty far (although I'd like to see a DVD player instead of VCR) and represent the beginning of the courtroom of the future: personal video displays for each juror (the better to see the evidence), network connections at counsel tables for the courtroom's presentation system and audio/video playback systems which allow for recorded playback via tape (Yuck!) or directly from the attorneys' computers.
If you haven't visited your local courtroom lately to see what type of tech is in use, you may be missing out on some additional ways to apply your CLNC® services for your attorney-clients. Next time you retie the connection with one of your favorite attorney-clients, engage them in a conversation about the technology available to them in their usual courtrooms. It may be fairly simple or it could be state-of-the-art. The more you know about their presentation capabilities, the more you can help with their demonstrative evidence and possibly presentation of their cases.
Attorneys need to advance their use of courtroom technology to better communicate with jurors. The jury pool is full of people who are used to sitting at home watching big screen TVs (and shows like CSI: Poughkeepsie) and want to see some of that high-tech stuff at work in the courtroom. This means the overhead projector no longer cuts it for demonstrative evidence.
The savvy Certified Legal Nurse Consultant will find out what tech their attorney-clients are and are NOT using and see if they can supplement their CLNC® services to help make use of that tech. I'd like to hear what sort of technology your attorney-clients are using in the courtroom.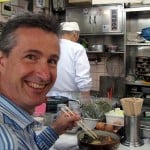 Keep on techin' – in court and out,
Tom