Some time ago I blogged about privacy concerns for legal nurse consultants and using a frameless privacy filter on your CLNC® business's laptop screen. A privacy filter keeps people (like your spouse or some other nefarious villian) from looking over your shoulder while you're working (or not) and seeing what you're working on (or not). I spend a lot of time on airplanes and am amazed at the things I see on people's computer screens, things that make me blush!
I've noticed that more and more people use iPhones®, BlackBerrys®, Droids® and other phones to view video, html email, etc. Studies show people spend more time texting and emailing from their cell phones than they do talking. The result? Now, while I'm waiting in the checkout line at Walmart®, I can often see what a person is doing on their phone and sometimes even read what's on the screen! 3M®, maker of the nifty privacy filters for computers, now makes a Mobile Privacy Film for Blackberry and iPhone phones.
Yes Virginia, I did say iPhone phones. Because of the amazing ability of the iPhone to display on either a vertical or widescreen frame, you'll actually need two different Mobile Privacy Films! Using your iPhone as a phone (and who really does?) requires a phone film and using your iPhone in horizontal mode, requires a different film.
As your ace tech tipper, my advice for Certified Legal Nurse Consultant iPhone users is fuhgeddaboudit! CLNC® consultants using a BlackBerry, could give one of these filters a try, or, keep your money and just check your immediate area for rapscallions, miscreants and other blackguards (like insurance defense attorneys) before you use your phone, then use it discreetly.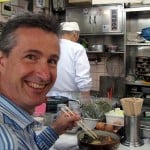 Keep on techin' (under cover),
Tom