I have been asked whether CLNC® consultants should encrypt the data on the computers they use for their legal nurse consulting businesses. My previous answer, if you remember, was an unequivocal "it depends." It depends on your needs and on the sophistication of your computer skills. To that end, I suggested using some version of Microsoft®'s "Bitlocker" program depending upon the operating system you may be running (Windows® Vista Ultimate or Windows 7). If you were running XP or lesser versions of Vista, I suggested an add-on program called TrueCrypt, a free download, that will allow you to encrypt your entire hard drive or a portion thereof. These processes still work.
But recently, I discovered an easier-to-use program – AxCrypt. Beside being free, it has the advantage of letting you encrypt your legal nurse consulting data on a file-by-file basis. That's right! You select the file you want to encrypt and you don't have to worry about setting up encrypted partitions or parcrypted entitions or any other gobbly-gook, tech-speak. AxCrypt integrates itself right into Windows Explorer® so all you have to do is right click on the file you want to encrypt, or decrypt, and make the proper selection. It even registers the file extension with Windows so an encrypted file will automatically be recognized and prompt you for its key when you wish to open it.
AxCrypt uses a pretty high standard of encryption (read about it here). My favorite benefit is that it keeps the original file name and, by allowing you to encrypt on a file-by-file basis gives you the ability to carry your encrypted files on a thumb drive or email them to your attorney-clients. It will even prompt you to print out a copy of your key for safekeeping.
I haven't looked for an encryption program for Mac users but I'm sure one or more exist. Now any Certified Legal Nurse Consultant (running Windows) can add file encryption to the files you use for your legal nurse consulting business and you couldn't find a simpler program to use. Try it today!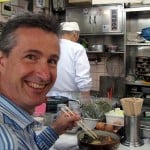 Keep on techin',
Tom