There I was nearly nine years ago, suffering from what I now refer to as "professional bradycardia." I signed up for LegalNurse.com's CLNC Certification Seminar and had my breath taken away! That seminar in 2000 was about to change my life forever and ever. However, at the time I only knew it was The Best program I had ever attended as a nurse, bar none!
It would be one and a half years later that I would have to wait for another positive breathless moment. It came after my first attorney-client gave me my first three cases, one right after the other, and then stated to me after paying his third retainer, "Larry, I just want to let you know that that you are not charging enough for these reports." That was the icing on the cake. It made me realize that I could do this type of work and do it well, but thinking at the same time…well duh…I was trained by The Best! Based on that attorney's advice and knowing that I was trained by the best, I substantially increased my hourly fee, never looked back and now never blink, shudder or stutter when I quote my fee to attorneys.
I was so excited that I picked up the phone and called LegalNurse.com in Houston. I asked if I could thank Vickie in person at the next CLNC Certification Seminar in Philadelphia (my CLNC training ground). The answer came back, "yes," and I found myself driving to Philadelphia in September 2002. I gave my little thank-you story with a microphone in front of me and I found myself breathless again, both from the fright of public speaking and from the reaction I received from the 300 nurses in attendance. I remember pinching myself and smiling from ear to ear on my drive home that day from Philadelphia.
I once again became breathless in March 2003 as I received the National Alliance of Certified Legal Nurse Consultants CLNC Success Story Award at the annual NACLNC Conference. Imagine, this old-as-dirt nurse, with average nursing skills, up on that huge stage with Vickie Milazzo in Orlando, Florida receiving such an award! It DID take my breath away and It DID FEEL GOOD!
One final breathless moment I would like to share, came very recently as I expanded my CLNC business to include nine subcontractors, all of whom are Certified Legal Nurse Consultants! I refer to my initiative as Peas in a Pod with the POD being my company who will act as the Point Of Distribution for casework to the Peas who are the CLNC® subcontractors. We have bi-weekly group phone conferences and also stay connected by Pea Pod Ponderings, a weekly email sent by Larry Pea to the other Peas. All the Peas, each with their specific area of nursing expertise, makes the POD strong and unique, however what takes my breath away is the fact all the Peas are very, very special to me and as a POD, we are able to offer my attorney-clients over 225 years of nursing experience, guiding them as we journey through the medical records! Another breathtaking moment indeed will also be when the Peas collectively meet at the next NACLNC Conference!
Thank you Vickie for making me one SOB (Short Of Breath) Certified Legal Nurse Consultant!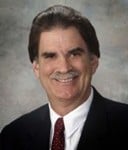 Lawrence H. Frace, RN, CLNC
P.S. Comment if you would like to congratulate Larry on his CLNC success and thank him for sharing how he overcame professional bradycardia.