I know more and more Certified Legal Nurse Consultants are joining Twitter and the ranks of the tweeters. I also know from looking at the Twitter homepages of some of the people following Vickie that many of you don't customize your Twitter homepage (not even using a stock Twitter background). Some of you don't have a photo or any personal information in your profile!
How in the world will anyone know you're a Certified Legal Nurse Consultant if you don't have any profile information? How do you expect to gain followers or credibility if people don't have a clue who they're following?
For those Certified Legal Nurse Consultants who want to make a splash on Twitter, log into your Twitter account, select Settings and select Profile. Then upload your photo, put in your website's URL and, in the bio field, add a short paragraph about yourself and your legal nurse consulting business.
Next, open another tab in your web browser and navigate to TweetyGotBack.com. This website gives you all sorts of custom backgrounds ready for your use. Browse around and find one that fits you. (One tip, you don't want too dark a background on the right side of the screen or it will hide that profile you just set up!) Once you've selected your new background, follow the easy TweetyGotBack.com steps and your new background will be in place!
Your new background will be much better than the over-tiled backgrounds you often see when someone uploads a background photo that's not properly sized. If you have the skills and can create your own background, go for it! Take a look at Vickie's Twitter page to see an example of what's possible. Remember, backgrounds will display differently at different screen resolutions so be careful. For many CLNC® consultants, a professional looking standard background (along with a full profile) will do. While you're looking at Vickie's Twitter page – follow Vickie_Milazzo to stay up on the most current legal nurse consulting business information!
Get your Twitter page looking good and working hard!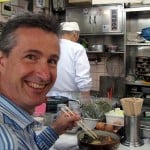 Keep on techin',
Tom