I just stumbled over what I think has to be the handiest, free, desktop shortcut ever. It's called "Close All Windows" and that's exactly what it does! If, at the end of a long day of slaving over a hot keyboard, you hear your spouse shout, "Honey, wine's open!" What do you need to do? That's right, close every open window on your computer by shutting down every program one at a time. That can be a tedious task if you're a busy, multitasking, CLNC® consultant.
To avoid this hassle, simply visit this page, download the CloseAll.zip file to your desktop or downloads folder and then unzip it. Next, locate the CloseAll.exe program (you'll see a red "X"). Right click on that x and drag it to your Windows® Quick Launch toolbar or your Desktop, then let go and left click on "Create Shortcut Here." That's it!
Now, at the end of your day, if you've stored "Close All Windows" on your desktop, simply click on Window's cool "Show Desktop" icon (located in your Quick Launch toolbar) to clear your screen, then double-click on the red "X" icon (or skip "Show Desktop" and double-click it on your Quick Launch toolbar). Close All Windows will instantly shut down all open programs, and if you have one running with unsaved data, you'll get the option to save that data.
This is a handy little program and it's free. I highly recommend it.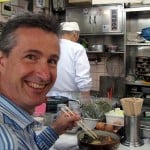 Keep on techin',
Tom