Any Certified Legal Nurse Consultant who uses Microsoft Outlook® for email has probably looked at her inbox and wondered if there is any way to separate the important messages from the rest of them. If you're not using the "junk mail" filter and have not created filtering rules, the answer is a resounding "No." One thing I've learned though, is that you can designate different display colors for the people who email you. This allows you to scan your inbox and quickly identify the emails you have coming in by the person or category you've assigned to them.
Let me give you an example. Any email I receive from Vickie, I consider important (even if it isn't). I also know her favorite color is turquoise – but since turquoise is not a choice, I simply open Outlook, click on an email from Vickie in my inbox. Then I click Tools, Organize and in the window that pops open, I click Using Colors. The default selection is red so I click the drop down menu and change email from Vickie to "teal" (yeah, I know it's not the same as turquoise). Next I click the Apply Color button and then close the box with the "X" in the top right corner. Now all email I get from Vickie will be in bold teal until I've read it and it changes to normal teal.
This step makes it so easy to quickly scan your Outlook inbox and see what's coming in from which attorney-clients. Think about the exciting possibilities for your legal nurse consulting business (and amusement)! Your most prolific client could be colored green for money, your favorite client purple for royalty and your CLNC® subcontractors with teal (because they've been trained by Vickie Milazzo). One nice feature is that you can change colors at any time. You are limited to the colors that are available and some are a little too bright, but this makes it easy to quickly organize your Outlook inbox.
Another quick organizational tip for your inbox is to use what Microsoft calls "Rules." An example of a rule is that all ezines or newsletters you receive might be automatically routed to a subfolder in your inbox titled "Newsletters." If you receive Lolcats from your mom (despite telling her to send them to your personal email address), you could create a subfolder called Mom-Spam and direct her email directly there. That way as the email arrives, Outlook steers it into the Mom-Spam folder and your inbox stays clear for important email (like announcements from Vickie Milazzo Institute).
Before you create any rules, you first have to create your subfolders. Left click on your inbox then go to the top left corner of your Outlook and click on File, New, Folder and name your subfolder. Next create rules using the Tools, Rules and Alerts selection. Click New Rule and work your way through the "rules wizard." Select a folder into which Outlook will automatically send any email received from a particular sender. They can run automatically or manually and are another terrific way to organize your Outlook inbox.
Here's the deal though, you have to be diligent, and I do mean diligent, about checking your subfolders for new mail. Outlook nicely shows the number of unread email messages next to each subfolder, but I like to keep email I have to act on as "unread" and then once I've read it, if I need to keep it, I'll mark it as "read" and move it into a subfolder. This tells me I have X number of emails in my inbox that require action on my part. Subfolders for active email don't work for me (I use them as a filing system) but might work for you. If they do, color me green with envy. Good luck with the rules – Microsoft's help function is pretty thorough, but rules can be problematic (that's why I just use colors).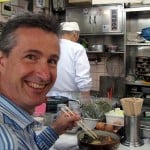 Keep on techin',
Tom