I like to joke with Tom that, "Sometimes I sit and think, and sometimes I just sit." Right now I've just finished sitting at my desk, not thinking but gazing at a gift that my nephews gave to me for Christmas a couple of years ago.
It's a gift that has rapidly become one of my favorites – a digital photo frame. Normally I'm not a fan of digital gifts (especially if I'm getting them) because they represent two learning curves – first, Tom has to learn how to use it (and he gets noisy about stuff like that), and second, learning how to use it myself (and suffering through Tom's rapid-fire training).
This time though I absolutely fell in love with this gift from the minute I opened it. I love photos and, if you're like me, you have lots of digital photos of your trips, your family, your friends, your pets (or plants) and anything else that passes in front of your camera. And, if you're really like me, these photos stay in your camera or sit on your computer's hard drive, never to be viewed by anyone (until Tom comes and moves them off my hard drive to create more space for my music). With this simple gift to yourself you've got the opportunity to turn those pixels into fun and instant renewal as you relive your favorite memories.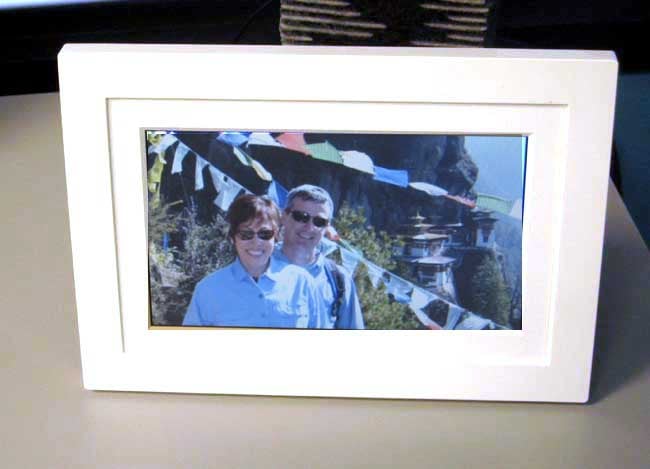 Vickie and Tom in Bhutan
First thing you do is create a directory or file folder on your computer called "My Photo Frame" or something similar. Then spend about 15 minutes a day pouring through your old photos from vacations long-past. Use the preview feature in Windows® to view the photos. You can copy the photos you like directly into the new "My Photo Frame" folder. Once you've gone through all of your photos, it's time to pull out your old albums (or storage boxes) to see if there are any printed photos you want to scan and add to your growing collection.
Next, open the photos with Microsoft Office Picture Manager or any other photo editing software you have and edit, crop and save the photos in a lower resolution. This isn't hard to learn and if you mess one up you can always copy another over it and try again.
Once your photos are saved to the "My Photo Frame" folder, it's time to toss out the memory chip that came with the frame. It'll be the cheapest memory chip with the smallest amount of memory the manufacturer could find. Next go to Amazon.com and buy a 1 to 8 GB memory chip (or larger) that's compatible with your frame. Memory chips are so cheap you can buy two. Your computer should have a slot for the chip, if not you can buy a cheap USB adapter that'll hold the chip so you can load your photos onto it.
Now plug the chip into your computer and drag your photos onto the chip. You may have to consult the dreaded documentation to see if there's a special naming convention for the photo display folder or directory. I like to copy the photos to the chip, not move them so that if something happens, I can reload them over and over again. After you've loaded the photos, pop the chip into the frame, plug in the electrical adapter and turn it on.
Often there are all sorts of settings, like how long to display a photo, whether to display them in random order, automatic on-off, etc. All those are up to you. What matters is that you've just created a constantly changing stream of memories. Each time we take photos, I select some favorites to drop into my frame's file. I've even converted at least some of those boxed-up photos into an assortment of fun.
This is the perfect gift for a parent, grandparent, sister or even a great attorney-client. You may even want to buy one for yourself and capture your CLNC® business with photos of your favorite attorney-clients and anyone else who has helped you grow your CLNC® business.
Success Is Inside!
P.S. Comment and share the first photo you will load into your new digital photo frame.