Every CLNC® consultant worries endlessly, and to some extent needlessly, about privacy. Without getting into a discussion, let's talk first about the hippo in the room – HIPAA. It's been said that law firms are not covered entities under HIPAA (hooray).
That being said, in my humble opinion (which was wrong once back in 1977 – a really bad haircut), a legal nurse consultant working for the defense would be considered a business associate of the defense attorney who would be a business associate of the hospital, other facility or other defendant who is covered by HIPAA. On the plaintiff side, HIPAA regs don't apply because you're looking at the records with the plaintiff's, or potential plaintiff's permission. But to be safe, keep your CLNC® subcontractors under contracts with confidentiality provisions and you should be in good shape. Once the suit has been filed, the plaintiff's medical records are pretty much fair game as they'll become public records. Here's a Medscape article on the subject if you want to read more, but the best way to stay in compliance is to discuss any privacy expectations with your attorney-client first.
Enough of HIPAA – let's talk tech! More and more Certified Legal Nurse Consultants are buying laptops, which means you're working in places where other people can see your laptop's screen. I know that every time I walk through a Starbucks® or to the airplane's restroom from my seat in steerage I look at what people are doing on their computers (most of them are watching movies but you see the occasional worker bee crunching away on a spreadsheet). Sometimes I get dirty looks but I really don't see much. It's the person sitting next to you for a period of time at a table or on a three-hour flight who is the danger.
If you're worried about people seeing your work product, or lack thereof, consider buying a frameless privacy filter for your laptop. You'll have to mess around with the installation and make sure your laptop will close with the screen installed, but the filter will hide your data from prying eyes. 3M makes some highly rated filters. They're a bit pricy, none is perfect (some can be viewed from above) and all can be seen from behind you (otherwise you couldn't see through them). The good news is that it works on all laptops, after you figure out how to install it. If you think you need one go ahead and buy it. I'm thinking about getting one to keep Vickie from looking over at my laptop to see my flight simulator score on those long "working" flights. But if people seeing your work (or play) isn't a concern for you, save your money and put it into your marketing materials.
Another privacy concern is with getting your work product to an attorney via email. There are ways to encrypt your email but they can be pretty complicated to set up and not every attorney understands "public key encryption" like you do. So, for legal nurse consultants who want to keep their documents private, buy a copy of WinZip®. It will allow you to compress your reports, into password-protected "zip" files, which you can then send to your attorney-client. Simply set up a different agreed-upon password with each attorney-client and then send them the password-protected zip files. If anyone intercepts your email or it goes to the wrong address, they won't be able to read it (easily).
In an earlier blog I discussed another way to secure your work product by sending your attorney-clients your work product in portable document format (PDF). If you have the free Bullzip PDF Printer or a full version of Adobe® Acrobat® you can password protect your PDF documents too. Once you get Adobe, it will integrate into your Microsoft® Word software so you can print PDF files straight from Word. The "save PDF" add-in from Microsoft will let you create PDFs but will not let you add security so you really need either Bullzip PDF Printer or Acrobat (Bullzip is a lot cheaper…free). Then you can simply email your new password-protected PDF documents to your attorney-client (just make sure he's got the password).
You should keep in mind that it's pretty unlikely that someone will intercept your email. It's more likely that you'll send it to the wrong address and password-protecting your work is a great way to keep it private.
This post should help allay some of your privacy fears but, remember, even paranoids have real enemies!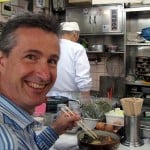 Keep on techin',
Tom