Every computer has cookies. Some come from the Internet and are auto-stored on your hard drive in your web browser. Others are stored in your keyboard – they're the detritus of all those years of Oreos® you've munched on while hunched over your computer. What's a Certified Legal Nurse Consultant to do other than start a carb-free diet?
The solution is simple and fat-free! Hit the hardware or electronics store and buy yourself a can of compressed air. Then at least once a month (or more if you're an inveterate snacker) use that sucker to blow the crumbs out of the keyboard and onto the carpet (where they can be nicely vacuumed up). You may have to practice tilting your keyboard into different positions in order to blow everything out but it's worth it and less painful than quitting snacking.
While we're on the subject, how many of you keep your PC on the floor (laptop users don't answer that)? You might ask yourself, "When was the last time I cleaned my PC's case?" Be honest. If it's been a while (or never), grab a flashlight, pull out your desk chair and crawl under the desk and inspect the case. Chances are you'll discover more dust bunnies around the case and in the air vents and USB ports than there are under your bed. I've seen computers where the owner couldn't find a front USB port because it was so clogged. You need your USB ports for your CLNC® business and moving files between your office and attorney-clients' offices. Clogged vents lead to overheating which will shorten the life of your PC.
Here's what to do. Turn off the computer. Unplug all the connections, cables, power supplies, etc. (make note of where they go so you can put it back together). Pull the PC out from under the desk and get after those dust bunnies with your vacuum. Then, use the vacuum to clear the vents and USB ports. Next, using a slightly damp (NOT wet, duh!) anti-static cloth, clean off the outside of the PC case.
Next, if you dare, open the thumb-screws and take the PC case's cover off. Look inside the PC (it's cool), grab your trusty can of compressed air and carefully blow the dust out of the PC. Your hard drive is sealed up pretty tight, but if any dust or particulate matter gets in there, it will cause a world of hurt (and lost data) so keep it clean. I don't recommend sticking the vacuum inside the case (you don't want to suck any connections loose). The canned air is sufficient. Keep a slight distance away and don't blow right up against anything (it's not an ear – it's a PC).
After you've blown out all the debris, put the case cover back on the PC and tighten the thumbscrews. Make sure the underdesk space is clean. Reconnect your cables and fire that sucker back up. You won't notice any performance changes but you can sure feel good about yourself for cleaning up your act and your PC.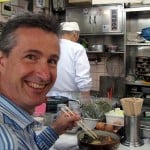 Keep on techin',
Tom